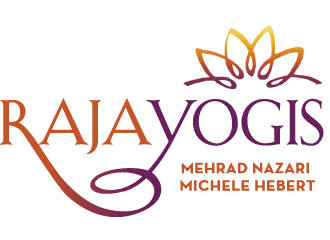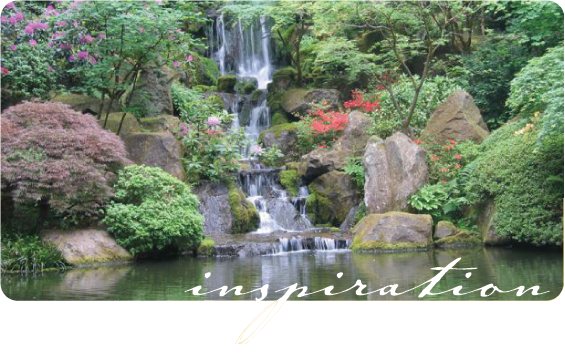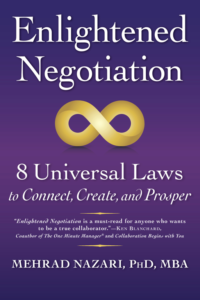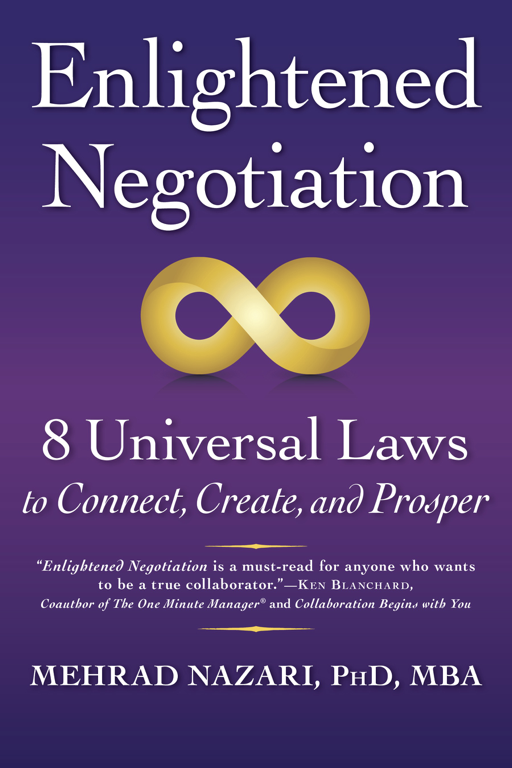 Enlightened Negotiation:
8 Universal Laws to Connect, Create, and Prosper
by Dr. Mehrad Nazari
Enlightened Negotiation™ is a guide to real-world, mindful negotiation practices drawing on the principles of Eastern wisdom traditions. In the realm of business where self-styled experts teach haggling rather than negotiation, people drink in harmful practices on a daily basis. Mehrad Nazari is here to undo that damage. Each of his eight universal laws presented can be engaged for conflict resolution and negotiation in both the workplace and our personal lives.
Dr. Nazari teaches how to assess your environment from a spiritual perspective, evaluate risks, and exhaust every potential for mutually beneficial collaboration. Dr. Nazari shows how to receive guidance through intuition and insight and channel creativity into a catalyst for harmony and prosperity. By listening and presenting your message clearly, he teaches readers to take responsibility and understand their needs by being flexible, being mindful, and reflecting.
About the Author
Dr. Mehrad Nazari's journey through life has combined professional experience at the highest level in the intensely competitive and challenging Southern California real estate market with a deep personal commitment to the study, practice, and teaching of the discipline of yoga and meditation, in particular, and the accumulated wisdom of diverse cultures in general.
In recent years, Dr. Nazari has combined these interests into a thriving practice as a consultant and lecturer on Enlightened Negotiation™, aligning real-world negotiations with our life force driven needs and spiritual nature.  His Enlightened Negotiation website as additional information.
Dr. Nazari received his PhD in Leadership and Human Behavior in 1992 (his dissertation was on Integrative Negotiation). He received an MBA degree and his California real estate broker license in 1981. As an adjunct professor of International Business Negotiation, he taught for ten years at United States International University in San Diego.
Dr. Nazari is the cofounder of Raja Yoga Institute, a master teacher of Raja Yoga and meditation, and has been teaching over twenty years. He received initiation from Walt Baptiste and was initiated to Himalayan Yoga Meditation Tradition by Swami Veda Bharati of India. He has also received initiation by the Zen Master Kyozan Joshu Roshi of Japan.
His presentations on the subjects of negotiation and spirituality include eBay Marketing Department, UC Berkley International House, Esalen Institute (on faculty for fourteen years), San Diego County Bar Association, Coldwell Banker, San Francisco Presidio Graduate School, Alliant International University, Rancho La Puerta (semi-annual presentations for eighteen years), Enlightened Leader Seminars (cofounder), IDEA Health & Fitness Association and Inner IDEA Conferences, and Kripalu Center for Yoga & Health.